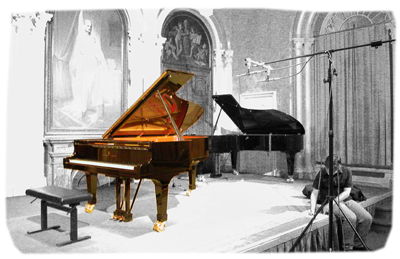 Patrick Holming answering the question "What does music mean to you?":
"Music can cause deep changes in humans. I play music that I consider genius. I want to understand the message that the composer tries to convey with his composition - I want to feel it, take it in, and make it a part of me. Then I can transmit this message to others as an interpreter. Therefore, music is a language, a language of the soul."
Versatility is one of his big strengths; He interprets with the same interest and love the composers of the baroque era, like J. S. Bach and Scarlatti, as the music of the Viennese classical period from Haydn to Beethoven and the romantic era, like for instance Chopin, Schumann, Liszt and Brahms.
In addition, works of more modern composers, like for example Ravel, Scriabin and Bartok, belong to his repertoire.
In virtuoso piano music as in slow movements of meditative depth, Patrick Holming is at home. He performs chamber music and accompanies songs - he very much appreciates the synthesis of word and music in German Lieder.
He plays music on original instruments with great dedication; Baroque music on a harpsichord - he had also training as a harpsichordist - or works of Haydn, Mozart and Beethoven on the fortepiano.
Patrick Holming about his task as an interpreter: